---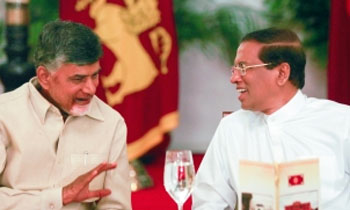 Chief Minister of the Andhra Pradesh N. Chandrababu Naidu said he was highly impressed with the progress made by Sri Lanka in many fields, especially in education and health and added he was privileged to participate at the 2nd Anniversary ceremony of the government of President Maithripala Sirisena.
Mr. Naidu made these remarks when he held discussions with the President Sirisena prior to joining the dinner hosted by the President in his honour at the President's House in Colombo yesterday.
Chief Minister Naidu said he was keen to study Sri Lanka's successes in education and health in order to emulate them in his State Andhra Pradesh.
President Sirisena commended Naidu for the rapid progress made by Andhra Pradesh under in his tenure under his stewardship.
"Sri Lanka is highly impressed by Mr. Naidu's plans for poverty alleviation," President Sirisena stressed.
Mr. Naidu said that the information technology is now essential for every sphere and noted that the bad effects of IT could be discarded through enhancing good use of IT.
Chief Minister Naidu is the pioneer leading his state as a science and technology hub in India today.
Andhra Pradesh holds the prestigious position as the first Indian State in IT. He is also responsible for making Andhra Pradesh one of the most developed and self sufficient state in India through the development of agriculture, industries and most importantly, providing clean drinking water to the entire state.
India imposes long power cuts covering the entire country but the people in Andhra Pradesh are the least affected lot as the duration of power cuts in Andhra Pradesh is much less than in other states. (Sandun A Jayasekera)