---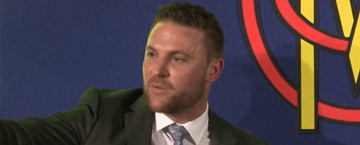 Former New Zealand captain Brendon McCullumon Monday apologized to former Sri Lanka's bowling star MuttiahMuralitharan for running him out during a match in 2006 in Christchurch, NewZealand.
Delivering the Marylebone Cricket Club (MCC) Spirit of Cricket lecture at Lord's in London McCullum saidnow he views things very differently and would hope that he is a very different person.
"I became incredibly competitive; winning was everything and I didn't really care what it took to win," he said.
"I now look back on that part of my game with regret. There are many things I would change if I could. I guess growing up in a cricketing sense is no different to growing up in life, except that it's a much more public rite of passage where everything you do is scrutinised,"
"There's no escaping some of the things I've done. It's on video - posterity in the worst possible way,"
"You probably want an example and fair enough too. Much as it pains me to talk about it publicly, I'll tell you how I ran out Muttiah Muralitharan,"
"We were playing Sri Lanka at Lancaster Park in Christchurch in late 2006. Kumar Sangakkara scored a magnificent 100 in the second innings. When Kumar reached his 100, Sri Lanka were nine down - the ball was still in the air being returned to me as wicketkeeper when Murali left his ground to congratulate Kumar. When the ball arrived in my gloves, I removed the bails and appealed. Murali was given out and we went on to win the match,"
"Not surprisingly, the incident created controversy and bad feelings. The Sri Lankans were stunned. Their captain MahelaJayawardene said at the time: "Legally it was run out, the ball was alive, but we play in an age where we talk about the spirit of the game. Hopefully it won't happen again. It's not the way to play cricket,"
"If I could turn back time, I would. We were within the laws of the game but not the spirit and there is a very important difference which is glaringly obvious to me years later, and it's that aspect that I want to focus on a little more this evening,"
"Because nearly ten years after running out Murali, I view things very differently and I would hope that I am a very different person. Kumar Sangakkara is here tonight. Sanga, I admire you enormously. I regard you as a friend. And I take this opportunity to apologise to you and Murali for my actions on that day," he added.