---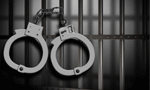 The Chairman of Nidahas Sewaka Sangamaya (NSS) of the Bandaranaike International Airport (BIA) Airport & Aviation Branch Warnasiri Bandara was arrested yesterday for using two State owned vehicles for the Joint Opposition's Paada Yathra march.
Two drivers (NSS) of the BIA Airport & Aviation Branch were also arrested over the same charges.
The Police alleged that he had used the two vehicles for paying a floral tribute to the statue of former minister Dharmasiri Senanayake during the march.
However, he had not obtained the approval before using the vehicles, the Police said.