---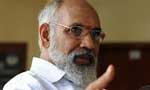 A tense situation prevailed in the Northern Provincial Council (NPC) when the members protested against Chief Minister C.V. Wigneswaran submitting a resolution on Jayalalithaa Jayaram becoming the Tamil Nadu Chief Minister again while nothing was done about people affected by the recent disaster in the country.
Mr. Wigneswaran said Sri Lankan Tamils were also happy about Ms. Jayalalitha's re-election as Chief Minister adding that she was able to do so because of the service rendered by her to Tamil Nadu and the Tamil people.
UPFA member V. Vijayathilaka said in response that what they should have done was not to celebrate Jayalalithaa's victory but empathise with the people who lost their lives in the recent disaster.
TNA MP Anton Jeganathan said even though assistance was received locally and internationally, nothing has been done by the NPC.(Romesh Madushanka)