---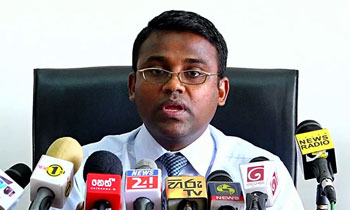 The GMOA today charged that the Neville Fernando Teaching Hospital (NFTH) set up to provide clinical training to SAITM students had never functioned as a Teaching Hospital and not even as a Base Hospital.
GMOA Assistant Secretary Dr. Samantha Ananda said the government's decision to direct SAITM students to State base hospitals shows that the NFTH had not fulfilled the minimum standards to function as a teaching hospital other than by name.
Dr. Ananda said the hospital was converted into a teaching hospital in one night, but no one knows how and on what basis that it had happened.
He said the people, civil society groups, trade unions and students unions including the GMOA had never asked the government to take over NFTH other than by Dr. Neville Fernando.
Dr. Ananda said Ministers Rajitha Senaratne and S.B. Dissanayake with NFTH founder Dr. Neville Fernando were benefited by sub-leasing the NFTH, resulting in aggravating the SAITM controversy without resolving it.
He said while misleading the public, both the ministers had found a way to settle the two billion loan taken by Dr. Fernando to establish the NFTH.
Meanwhile, GMOA Secretary Haritha Aluthge said the GMOA would complain to the United Nations Human Rights Commission over the government's attempt to risk the lives of patients by establishing such a private institution under government sponsorship. (Thilanka Kanakarathna)
Video by Janaka