---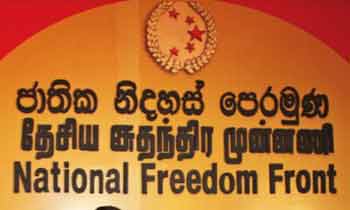 A letter was handed over to the Speaker of Parliament stating that five members of the National Freedom front (NFF) representing the UPFA will withdraw from the constitutional assembly.
The letter signed by MP's Wimal Weerawansa, Weerakumara Dissnayake, Jayantha Smaraweera, Udayashantha Gunasekara and Niroshan Premarathna cited ten reasons for the decision.
The parliamentarians said they bowed down to the Mahanayake Theros view that the country did not need a new constitution at the moment and questioned the legality of the process as they alleged the public was neither informed of the assembly's decisions nor were they a part of it.
The letter also said the government and the President did not have the mandate to establish, maintain and implement the decisions of such an assembly, while the Joint Opposition did not have the mandate to be a part of it.
Discussions of the six sub committees appointed by the assembly not being revealed to the media and the opposition allegedly not being allowed to express its views during these meetings, in addition to the lack of faith that the process would result in a constitution accepted by all parties were other reasons cited by the group.
The letter pointed out that the parliamentarians withdrawal from the process questioned the legality of the assembly as all members of parliament needed to be a part of it.