---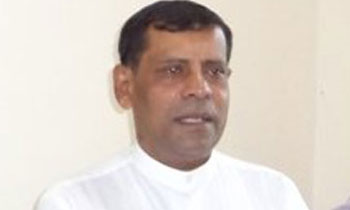 North-Central Provincial Council's Health Minister K.H. Nandasena, who had attended the joint opposition May Day rally led by former president Mahinda Rajapaksa, was today removed from his ministerial portfolio.
Mr. Nandasena was replaced by councillor M. Herath Banda and was sworn in by NCP Governor P.B.M. Dissanayake.
Mr. Nandasena, who was replaced with Council Member, said he was not least bit concerned about the removal.
When contacted, Mr. Nandasena said he was not officially informed about being removed from his portfolio but came to know about it from the governor's secretary during the swearing in of the new minister.
"I even functioned as minister yesterday evening in the presence of the Governor and the Chief Minister. No one told me about this move until someone asked me if I'm aware of the swearing in of the new minister this morning. Then I called the governor's secretary who confirmed the new appointment," he told daily Mirror.
He said he was not given any reason for the removal and believed it was because he did not toe the government's line.
"However, I'm not the least concerned about the removal. I will continue working for the people," he said. (Lahiru Pothmulla, Athula Bandara and Dayarathna Ambogama)