---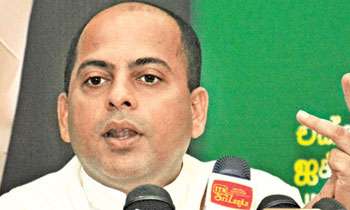 Muslims should reconstruct the Buddha statues which were vandalized in Mawanella recently to prove their sincerity and innocence, parliamentarian S. M. Marikkar said today.
"The Muslims should do so as a gesture of goodwill and to show their willingness to co-exist in peace and harmony with other ethnic groups," he told a media briefing last morning.
"I am also willing to attend to any repairs if I get a chance to do so," the MP said and denied allegations that he had influenced the police not to investigate this incident.
"However, I did speak to IGP and asked him to carry out investigations on the hate speech that is being spread via social media and arrest those who are behind it and also to arrest those who are behind the incident in Mawanella," he said.
Mr. Marikar said he enjoyed a good rapport with the Buddhist clergy as he has been providing financial assistance to temples even before taking up to politics. (Yohan Perera)
Video by RM