---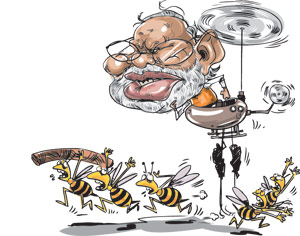 Ahead of Indian Prime Minister Narendra Modi's visit to the upcountry areas, action has been taken to remove hornets and wasps nests found in certain parts of the estates to avoid any possible attack on the visiting dignitary.
The security units assigned with the provision of security to the Indian Premier had coordinated with the Hatton SPs office and obtained the assistance of the Organization for the Protection of such bees.
Premier Narendra Modi is scheduled to declare open the Intensive Care Unit of the Glencarn hospital in Norwood, Hatton, an event where President Maithripala Sirisena and Prime Minister Ranil Wickremesinghe are also due to participate.
A public rally and several other events are lined up to coincide with the visit, and authorities had taken measures to prevent any sudden attack by these wasps that are now present in large numbers in the estate sector.
The whirling that would be created by several Helicopters making their landings, the Wasps who had built their nests on large tree tops might be disturbed and aim their attacks on the large crowds due to assemble at the grounds where public meetings would be held. Special measures were adopted to remove these nests with technical assistance as well. (Suranga Rajanayake)