---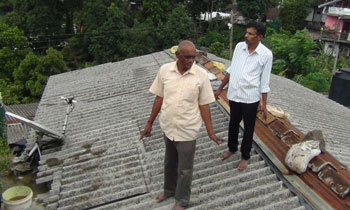 Two MI 17-type helicopters belonging to the Indian Army deployed to provide security to Indian Prime Minister Narendra Modi during his upcoming visit to the hill country had during practice runs damaged the roofs of five houses, house owners said in a complaint to the Hatton Police.
They said the wind stirred by the whirling helicopter blades of the helicopters had blown away the asbestos roofing sheets.
When inquired from the Hatton Police the pilots had requested the police to inform the house owners to place sand bags on the roofs of their houses.
The Indian government had built a hospital complex for the Hatton-Dikoya Base Hospital at an estimated cost of Rs.5 billion. The building is to be inaugurated by the the Indian Premier before addressing the upcountry estate sector employees at the Norwood grounds. (Ranjith Rajapakse)