---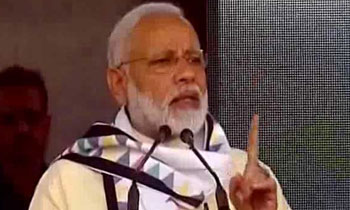 Indian Prime Minister Narendra Modi's brief visit and the speech he made in Sri Lanka confirm that India has turned Sri Lanka into one of its semi-colonies, the Pivithuru Hela Urumaya (PHU) said today.
It said the speech made in Dikoya by Premier Modi flanked by President Maithripala Sirisena and Prime Minister Ranil Wickremesinghe proved that Sri Lanka had become another state of India.
"Mr. Modi pledged to expand the Indian-funded ambulance service to cover the entire country and build 10,000 housing units for residents in the estate sector. What right has he to make decisions on behalf of Sri Lanka? He spoke as if Sri Lanka was the 30th state of India with President Sirisena as the Governor and Premier Wickremesinghe as the Chief Minister of that state," PHU General Secretary and MP, Udaya Gammanpila told a news briefing.
He said government leaders had repeatedly said Mr. Modi was arriving here as the chief guest for the UN Vesak Day festival held in Colombo and that his visit was purely based on cultural ties and not politics.
"However, Mr. Modi's speech at the festival focused rather on Indo-Sri Lanka relationships than UN or Vesak Day. The Indian Premier commented on trade, investments and technology ties between the two countries. Indirectly, he indicated that the Economic and Technical Cooperation Agreement (ETCA) should be signed," the MP said. (Lahiru Pothmulla)
Video by Sanjeewa, RM