---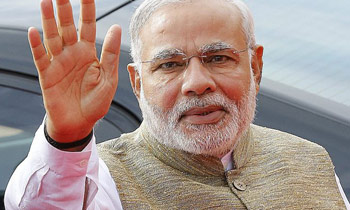 A picture of a Sri Lankan train service had been used in the advertisement given on the development of Indian train services to commemorate the third anniversary of the Prime Minister Narendra Modi's government, India Live Today reported.
The article said the prime minister's statement on the benefits of the governance has raised a new controversy. The advertisement had been published on Wednesday in various media.
The by train service which was inaugurated two years ago at Talaiamannar in Sri Lanka is shown in the advertisement of Modi Government.
The train was flagged off during Modi's visit to Sri Lanka on March 14, 2015. The advertisement is made on the fast development of railways and six metro cities with the metro facility.
It is clearly written on the right bottom corner 'Thalimannar pear', to which PM Modi is seen giving the green signal.
The advertisement is in Sinhala, Tamil and English. Sri Lankan President Maithripala Sirisena is also seen in the picture.
The article said critics have made allegations that the Sri Lankan picture was used only because there was no significant achievement in the Indian railway sector.