---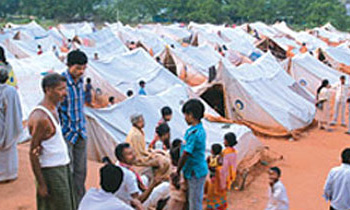 A special camp of the United Nations High Commission for Refugees (UNHCR) held in Trichy to guide Sri Lankan refugees on repatriation to their home received a good response from the refugees with many of them expressing their desire to go back.
Earlier, the refugees were sceptical on repatriation due to uncertainty over their future, but the UNHCR came forward to allay their fears and provided them all the guidance required to clear the formalities for their repatriation.
As a part of the programme, two officials from UNHCR in Chennai conducted the two-day camp at the district collectorate on Monday. On the first day, some of the refugees expressed their willingness to be repartiated.
"A total of 16 members from nine families attended the camp. They are interested in returning to their home towns in Sri Lanka. Most of them who came today are natives of Jaffna and Vavuniya," regional special deputy collector, S Natarasan told TOI.
The officials verified the documents to authenticate their Sri Lankan origin and their passports. UNHCR would even help them apply for passports in the Sri Lankan embassy in Chennai if they had not obtained the same.
UNHCR would also take care of the travel expenses to Sri Lanka and provide financial assistance for their survival until they are accustomed to the situation to earn on their own. "We will provide financial assistance to maintain their daily needs for at least three months in Sri Lanka," said Natarasan.(Times of India)