---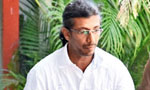 Sugath Kumara Lakmana, the individual who was arrested on charges of threatening President Maithripala Sirisena and Prime Minister Ranil Wickremesinghe through social media, has lodged a complaint with the Human Rights Commission yesterday saying he was illegally arrested and detained in Malaysia.
Speaking to the media outside the Commission, Lakmana said that the CID arrested him on April 22 in Malaysia and detained him for five days prior to extraditing him to Sri Lanka.
The CID arrested Lakmana, a resident of Yakkala for allegedly making death threats on the lives of the President and the Prime Minister when he arrived at the Bandaranaike International Airport on April 27.
Colombo Chief Magistrate Gihan Pilapitiya severely warned the accused not to repeat such an offence and he was ordered to be released from the case.
"I was detained in Malaysia for about five days. I think it was illegal. I lost my job and don't have an income to feed my child. I complained to the commission seeking justice," he said. (Darshana Sanjeewa and Indika Sri Aravinda)
Video by Indika Sri Aravinda