---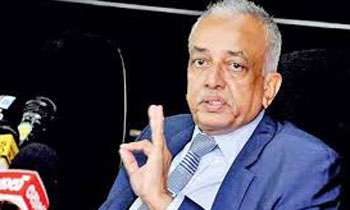 Minister of Development Strategies and International trade Malik Samarawickrama yesterday rejected the allegations made by a company that he and his State Minister had demanded a commission of US 25 million to have a project to produce and export High-Speed Trains.
Minister Samarawickrama said this in a statement made in Parliament last afternoon.
"This is a totally false allegation. In fact, I have never met this party, nor have I spoken to them or even seen the colour of them," the Minister said.
"At no stage do the Ministers get involved in the approval process of projects in Board of Investment (BOI). However, I have requested for and received a report of this proposal, which I will table," the Minister added.
Accordingly, the Minister said Ceylon High-Speed Railways Ltd. Nugape Pamunugama was incorporated in Sri Lanka on April 9, 2015, with two local directors.
The company had pledged to invest Euro 488 million and to maintain a working capital of Euro 2.2 billion.
The Minister said the company had demanded 2,242 acres of Crown Land in three locations through outright purchase and 1,823 acres of private land. The company had also wanted from the Government 220 prime movers, 40 excavators, 75 boom trucks, 100 land vehicles, 50 buses, 400 bicycles, 1,200 water pumps, 1,500 air conditioning units, four helicopters, 22 special vehicles for the families of investors, three 36 floor office buildings, two ships and 10,000 mobile phones.
"Also the company has demanded 95 per cent tax exemption, permission to operate a private bank and licences for TV and radio channels," he said.
"However, I have written to DIG-CID, to investigate into the matter at this earliest convenience and take necessary action against any Cabinet Minister, if such funds have been exchanged. I am tabling the letter I have sent to the DIG," he said.
"Last week media institutions alleged that a sum of Rs. 150 million had been received to be credited to my bank account and the Central Bank had frozen the funds.
"This is also a totally false allegation. I have checked with the Central Bank and I was informed that no such funds have been deposited. Is this the media freedom we wanted? This is nothing but freedom of the wild ass," he also said.
"I request you to kindly take necessary steps to prevent Members of Parliament being insulted and defamed by the irresponsible media outlets, coming out with fake news. If not, no decent person will want to enter Parliament," he added. (Yohan Perera and Ajith Siriwardana)