---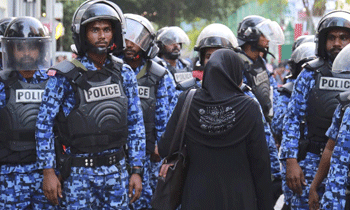 The Maldives Army on Sunday surrounded the island's Parliament as opposition lawmakers tried to make their way into the premises following the resignation of the Parliamentary Secretary General.
The media reported that some opposition lawmakers had been allowed to enter the premises, despite the heavy military presence, Xinhua reported.
Parliamentary Secretary General Ahmed Mohamed announced his resignation on Sunday morning without citing any specific reason. The move came after the first parliamentary session for 2018, which was due to be held on Monday, was cancelled indefinitely due to security concerns.
The Maldives has been plunged into a fresh round of political turmoil after the Supreme Court on Thursday ordered the immediate release of jailed political leaders, including self-exiled former president Mohamed Nasheed.
The Maldivian government on Sunday revealed an imminent move by the country's top court to have President Abdulla Yameen arrested with the police and army insisting that such an order will not be enforced, local media reported.
Attorney General Mohamed Anil, seated beside the army and police chief on Sunday morning, told reporters that the government has received information that a Supreme Court order to arrest Mr. Yameen was imminent.
However, the Attorney General labelled the move as "unconstitutional" and said the police and the army would reject any order by the Supreme Court to have the President arrested.(The Hindu)