---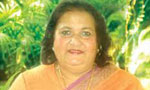 Colombo chief magistrate Gihan Pilapitiya ordered the CID yesterday to obtain a valuation certificate from the National Gem and Jewellery Authority concerning the gold jewellery belonging to Sicille Kotelawala (that was kept in a safe deposit box) in order to auction it.
Sicille Kotelawala is on remand on a charge of defrauding a sum of Rs 4.3 million belonging the depositors of the F&G Property Developers.
The magistrate made the order having considered the submissions by the attorneys representing the aggrieved parties that the jewellery be sold at an auction and the funds realised paid to the depositors.
The CID had had opened the safe deposit locker at the Union Place Branch of the Peoples Bank (in Colombo 2) on 27.09.2010 and a report had been submitted to Court.
Sicille Kotelawala was produced in Court by prisons officials yesterday.
The magistrate re-remanded Sicille Kotelawela till March 9.
The CID informed Court that it was not possible to record a statement from the suspect due to her critical health condition and, therefore, it needed more time to record her statement and also get the opinion of the Attorney General regarding the case. (Shehan Chamika Silva)