---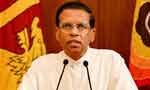 President Maitripala Sirisena is reported to have told the Cabinet meeting yesterday that decisions related to the financial sector and the Central Bank should be taken only through a committee comprising him, Prime Minister Ranil Wickremesinghe and Finance Minister Ravi Karunanayake.
The Cabinet met yesterday for the first time after the New Year, under the chair of the President and discussed, among others, the financial matters.
He had reportedly told at the meeting, that future decisions should be taken regarding the financial and Central Bank matters, only through a committee consisting of him, along with the Prime Minister and the Finance Minister.
He stressed the need to take such decisions through wide consultation.
The President, on Monday, said he would not impose any tax that would burden the general public. He also said that he learnt of it only through media reports.
He made such remarks in the backdrop of a move to increase taxes effective from May 2.
Besides, the government announced that it would do away with certain tax exemptions granted on education, health and telecommunication sectors.
The Joint Opposition decried that the proposed tax hikes would heap burdens on people by way of price increases of essential items and services patronised by ordinary people. (Kelum Bandara)