---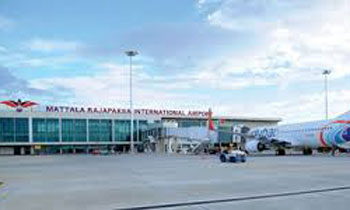 The Mattala Rajapaksa International Airport (MRIA) has become busier with at least five flights using the airport daily, a far cry from the one flight which used the air port during the past year.
MRIA manager Upul Kalansuriya said the airport had at least 400 passengers each day since the closure of the main Bandaranaike International Airport (BIA) in January 6, for renovations.
The main runway at the BIA will remain closed during the day until April for the construction of two new runways. the main runway of the airport would be closed for eight hours each day, from 8.30 am to 4.30 pm, for three months.
MRIA was opened in March 2013. Initially, several airlines flew to the airport, including SriLankan Airlines which established a hub. However, due to low demand, most of these airlines left Mattala.
Kalansuriya said that 240 flights had used the airport bringing in 14,000 passengers since January this year.
Airlines Fly Dubai and Indonesia had flights arriving and departing from MRIA, flights to Beijing and Shanghai only departed from the airport, he said.
"We have the facilities to cater to these travellers and the crew. The number of travellers arriving and departing from MRIA is increasing as we speak," he said. (Darshana Sanjeewa)