---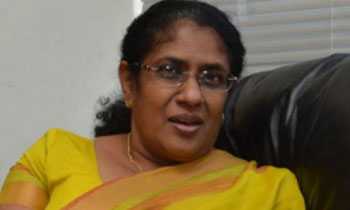 Justice and Foreign Employment Minister Thalatha Athukorale said ex-president Mahinda Rajapaksa had a responsibility to order an inquiry into the untimely death of her brother, UNP's former general secretary Gamini Athukorale in 2002, if he had any suspicions about it.
Responding to journalists on the remarks made by Mr. Rajapaksa that the new Justice Minister, should order a probe into her brother's death, Minister Athukorale said she did not have any doubt on the circumstances that led to her brother's death.
She said this after visiting the Ramanna Nikaya Mahanayake the most Ven. Napane Vijithasiri Mahanayaka Thera.
The new Justice Minister said a canard on the sudden death of her brother was spread at the time with the intention of tarnishing the image of UNP leader Ranil Wickremesinghe who was planning to contest the 2005 presidential election.
She said she was well aware of the secret deals Mr. Atukorale had with Mr. Rajapaksa before his sudden death from a heart attack on January 2, 2002 and added that it was weird and bizarre as to why he suggested that she should initiate a probe into the death of her brother after 10 years.
Mr. Atukorale who was also the deputy leader of the UNP was appointed the Minister of Transport, Highways and Civil Aviation after the UNP won the parliamentary elections held on December 5, 2001. He died of a heart attack at the age of 51, serving only a month as a cabinet minister.
"As the younger sister of my brother, I was well aware of the covert alliances my brother had with Mr. Rajapaksa and President Chandrika Kumaratunga. If Mr. Rajapaksa had a slightest doubt on the death of my brother he could have ordered a probe after becoming the President in 2005. He is suggesting that I must hold an inquiry with ulterior motives and with malice," the minister said.
On the comments made by former justice minister Wijedasa Rajapakshe that he was removed from Cabinet for refusing to influence the Attorney General's Department, the minister said there was a time the AG's Department was blatantly influenced by Mr. Rajapaksa.
"Mr. Rajapaksa taking over the AG's Department was undemocratic, unfair and affected the independence of that department. It was under the Rajapaksa rule that a highly independent and unbiased Chief Justice was summarily sent home in 28 hours. Field Marshal Sarath Fonseka, who led the war against the LTTE was arrested illegally and sent to the prison after a sham Court Martial," she said.
The minister assured that under the 'yahapalanaya government' the judicial independence and the independence of the AG's Department would be upheld and protected. (Sandun A Jayasekera)