---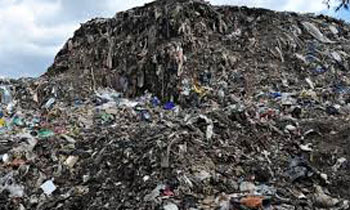 There was an imminent risk of another landslide taking place as a result of flooding that could take place in the vicinity of the Meethotamulla garbage dump site due to the monsoon rains that were expected to begin soon, the Movement Against the Meethotamulla Garbage Dump warned yesterday.
Speaking to the Daily Mirror, President of the Movement, Nuwan Bopage said the area was yet to see any form of restoration after the tragedy which occurred during the Sinhala and Hindu New Year.
"The main canal is still blocked by garbage and mud and the drainage system has not been restored as yet. The area is not stable yet and therefore there is a chance of another landslide or flooding in the area," he said.
Soon after the tragedy the National Building Research Organization (NBRO) had warned residents and the public against visiting the dump site. Residents in several pockets close to the mountain had also been asked to relocate as they were living in a high risk zone.
However, Bopage said the authorities were trying to relocate residents unnecessarily. "Measures have not been taken to clear out the canal or restore the drainage system in the area. They want people to relocate instead," he said.
NBRO officials had warned that heavy rains would lead to the garbage mountain absorbing the water making the mountain dangerous again. "If the drainage system is not looked at and the canal is not cleared it will only lead to a flood situation," Bopage stressed.
Confirming the possibility of a tragedy taking place, the NBRO stated that heavy rains expected would increase the risk of another landslide in the area.
"The change in the weight of the mountain could lead to another landslide. We have removed residents in the immediate vicinity who would otherwise have been living in the high risk zones," NBRO Director R. M. S Bandara said.
Steps to deal with the garbage dump site would be formulated after local and foreign agencies complete their studies at the site. However, Bandara warned that there was a probability of another landslide occurring soon and requested residents to be vigilant.
The tragedy last month killed 32 individuals and affected 1,703 more. (Yoshitha Perera & Thilanka Kanakarathna)