---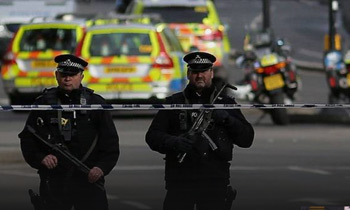 Islamic State claims responsibility for attack outside UK parliament in London, Amag News Agency reported
A policeman was stabbed, an assailant was shot and 20 people injured in what police said they were treating as a terrorist incident near Britain's parliament.
Four people have died in the incident Sky News said on Twitter, citing unspecified sources. Earlier it was reported that a woman had died and other people were being treated for "catastrophic" injuries after the attack in Westminster in London.
Amid confusing scenes, it appeared the incident may have unfolded in several locations, including the busy bridge where tourists often congregate to take pictures of Big Ben and other attractions. The incident took place on the first anniversary of attacks on Brussels in Belgium."
British Prime Minister Theresa May, who had just completed her weekly Prime Minister s Questions, was seen being ushered into a car as gunfire rang out at Parliament during the incident.
Downing Street said the Prime Minister was "safe" as an emergency services helicopter was seen landing in Parliament Square, which has been cordoned off and closed to traffic. "The Prime Minister was brought back to Number 10 from Parliament. She is currently monitoring the situation," a Downing Street spokesperson said.