---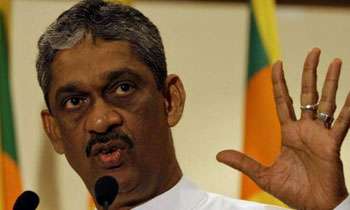 Democracy was yet to be achieved as President Sirisena was having a severe grudge with some UNPers, Field Marshal Sarath Fonseka said over the weekend.
Field Marshal Fonseka said this at the opening of a UNP office in Yapahuwa over the weekend.
"The President had thrown away MP Palitha Range Bandara's file when it was sent to him with his name in the list of MPs that were to be appointed as Cabinet Ministers. He has refused to appoint me as a Cabinet Minister as well," Fonseka said.
"He used to see whether I was around whenever he got on to a political stage in the past. Today he cannot stand us," Field Marshal added.
MP Fonseka added that UNP was like crabs in the boiling water.
"They only shout about the bond scam. However, they fail to talk about the bond issues worth Rs.800 billion that have taken place during the Rajapaksa regime," he said.
At the same time, he mentioned that there had been shortcomings in the Government which was elected on January 8 2015.
However, he said that there had been no Government without shortcomings and weaknesses in this country.(Sajeewa Kottegoda)