---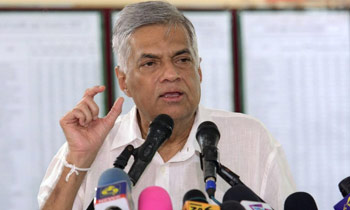 Prime Minister Ranil Wickremesinghe said today the advanced level students in flood and landslide-affected areas should be allowed to sit the GCE Advanced Level (A/L) exam next year instead of this year.
He said this when he was informed by the divisional secretaries in the Matara District that students who were expecting to sit the GCE A/L exams this year were still in a state of shock having lost their study material.
"Let them sit the exam next year and allow them to sit for it three times," he said while pointing out that these students too should be allowed to sit the exam three times -- twice from school and once privately as usual.
The district divisional secretaries who described the impact on the students in the Matara District said some 36,000 children in the district had lost all their books and stationery in the floods that ravaged the area.
However, a proposal made by one government official that the affected students be allowed to make four attemptw to get through the A'L exam was dismissed. The Prime Minister said implementing such a proposal would be complicated as procedures had to be changed to implement it.
It was revealed that some 1,980 teachers and 38 school principals in the district had been displaced while some of the residents of Pasgoda, Welipitiya, Malimbada in the Matara district still live in fear because these areas have been identified as vulnerable and might have to be resettled elsewhere.
Government officials said about Rs.4,000 million was needed to repair roads destroyed by the disaster while nearly 1,902 acres of tea plantations had been destroyed.
The Prime Minister stressed the need for finalizing estimates to rebuild roads in all disaster-hit areas at it was essential to present them to the donors to obtain foreign aid.
"We must expedite the process of preparing estimates as we might lose foreign assistance in the event a disaster takes place in another country," he said and added that he would meet the ministers of plantation industries and finance to assist the business establishments and tea plantations which were affected. (Yohan Perera)