---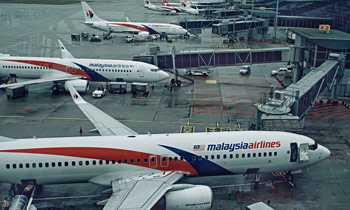 A Malaysia Airlines flight was forced to return to Melbourne airport Wednesday after a passenger tried to force his way into the cockpit claiming he had a bomb, offcials said.
Malaysian Deputy Transport Minister Abdul Aziz Kaprawi said the passenger, who he identified as a Sri Lankan national, appeared to have been drunk and was overpowered by the plane's crew and later arrested by airport security in Melbourne.
"It is not a hijack. One disruptive passenger tried to enter the plane's cockpit," he told AFP.
"The passenger... claimed to have a bomb. But it was not a bomb but a powerbank," Aziz said.
"Everyone on board is safe... He was taken out of the plane handcuffed by Australian security officers." Kuala Lumpur-bound Flight MH128 departed Melbourne at 11:11pm (1311 GMT) on Wednesday but turned back shortly afterwards when a man allegedly threatened those on board, Australian police said.
"It is alleged that a man tried to enter the cockpit and threatened the safety of passengers and staff," Victoria state police said in a statement, but added that he "did not gain entry to the cockpit" and was subdued.
"Passengers are currently exiting the plane and speaking to investigators," police said.
A passenger sitting in business class, who identified himself as Andy, told Melbourne commercial radio station 3AW the man threatened to "blow the plane up".
"The staff were saying 'Sit back down sir, sit back down sir'. He goes 'No, I'm not going to sit back down, I'm going to blow the plane up'," Andy told 3AW.
"The staff screamed out 'I need some help, I need some help'. So I jumped up, undid my buckle, and approached him." Andy said the man ran to the back of the plane, where two other men grabbed and disarmed him of a "giant black thing" and "put hog ties on him".
Malaysia Airlines said the passengers would be put up at hotels and offered another flight.
The incident came just months after Canberra called off the search for missing flight MH370 carrying 239 passengers and crew, after a vast underwater hunt off Australia's west coast failed to find the plane. (Reuters)