---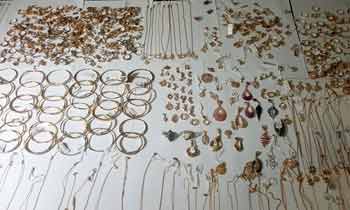 A 35-year-old Sri Lankan man was arrested at the Bandaranaike International Airport (BIA) last night while he was attempting to smuggle gold jewellery worth Rs. 25 million into the country, BIA Deputy Customs Director Parakrama Basnayake said.
He said the suspect was arrested around 11.35 pm with more than two kilograms of gold jewellery at the customs Green Channel after he arrived at BIA from Bangkok. The gold jewellery was found hidden inside his luggage.
"The gold jewellery was found with pearls and diamonds embedded in them. The suspect was a businessman from Bandaragama area in Horana," he said.
Mr. Basnayake said this suspect was previously arrested for similar offence and released after Rs. 100,00 fine imposed.
The jewellery (rings, necklaces, bangles and bracelets) was found in four transparent parcels concealed inside one of his baggages. The suspect used to bring the jewellery under the guise of importing shoes.
"The jewellery was found when the customs officers tried to expand the luggage. The assessment of the jewellery was done by the Gem and Jewellery Department specialists and valued at Rs. 25 million," he said.
"Due to the high customs security at the BIA, smugglers used to seek support of airport officers, security officers and duty free shop employees when transporting their counterfeits, drugs and illegal goods," he said.
The raid was carried out by the Assistant Customs Superintendents Duncan Hettiarachchi, Ajith Ilesinghe and Lasath Dharmasena. The Investigation was carried out under the supervision of Customs Director Rohitha Uduvawala and Deputy Customs Director Parakrama Basnayake. (Chaturanga Pradeep, T.K.G. Kapila and Deepa Adikari)