---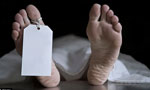 A Sri Lankan Tamil, resident of Tiruchi died while coming to Tiruchiby a taxi after landing at Madurai airport from Colombo on Wednesday.
Police gave the name of the deceased as N. Kanakaraj (62), resident of K.K. Nagar. The man is survived by wife, two sons and two daughters.
Kanakaraj is said to have been frequenting the island nation to sell anklets procured from Tiruchi and bringing goods from that Sri Lanka said the police.
He landed at Madurai airport from Colombo on Wednesday evening and is said to have felt uneasy besides reportedly feeling drowsy upon arrival.
The victim was put in a private taxi at Madurai airport and was on his way home to Tiruchi in the vehicle.
Midway the car driver found Kanakaraj in an unconscious state. The driver drove the vehicle to the K.K. Nagar police station and informed about the passenger's medical condition.
The matter was conveyed to his family using the mobile phone in his possession. The police advised that the man be taken to the Government Hospital in Tiruchi. He was dead at the hospital later.
The Government Hospital police has registered a case under section 174 of the Code of Criminal Procedure. The post mortem was conducted on Thursday. (The Hindu)