---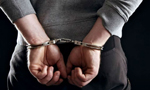 A Sri Lankan man was remanded for six days in Paphos, Cyprus on Thursday in connection with an ongoing investigation into bogus medical certificates to secure work permits for foreign workers, the Cyprus Mail reported yesterday.
Paphos CID spokesman said the 46-year-old had made various assertions that were being investigated. He also said the Sri Lankan was remanded for seven days from June 4 with others including two Paphos doctors.
"The two doctors, 68 and 51, are suspected of issuing the fake certificates used by the other suspects to hire foreign workers. The other four were an owner of an employment agency, two employees, and an 80-year-old who had been friends with a 78-year-old man who reported the case to police," he added.
Police found out that in 2013, the 78-year-old had submitted three applications for a caregiver – two were rejected and one approved without him knowing.