---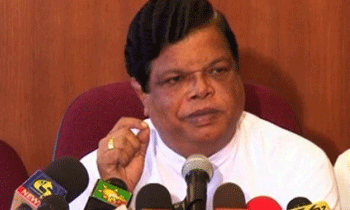 The fuel crisis that resulted after co-opting the LIOC for fuel supply and distribution, is a sign of what will happen if Sri Lanka signs Economic and Technology Cooperative Agreement (ETCA) with India," the joint opposition (JO) said today.
JO MP Bandula Gunawardana said India's influence was so deep that the government had even allowed an Indian footwear company to enter the Sri Lankan market impacting negatively on local footwear manufacturers.
"If ETCA is signed against such a backdrop, the country will be destroyed. The government should learn lessons from the Lanka Indian Oil Company (LIOC) issue," he told a news briefing.
The MP said the Rajapaksa government had to spend at least US$5 billion annually when the world was going through a fuel crisis and the country through a war.
However, he said the fuel prices had dropped since 2015 and the new government had to spend only US$2.7 to 2.8 billion a year to import fuel.
"This was a huge advantage to the new government. US$2.8 or 2.7 billion was only 12% of the entire import revenue. Because of this reduction of fuel prices, the government had saved more than US$5 billion so far. However, even with this advantage, the government had failed to ensure a sufficient fuel supply to the people," he said. (Lahiru Pothmulla)