---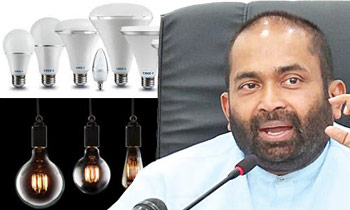 The cabinet had approved to provide ten million LED bulbs to 3.8million consumers under low income category, Power and Energy Minister Ranjith Siyambalapitiya said.
Speaking to the media yesterday the Minister said those 3.8million people still use incandescent bulbs and it consumes 70 percent more electricity than LED bulbs.
"The low income consumers cannot buy LED bulbs due to their high price. Therefore the ministry had taken this decision to provide relief to them. The LED bulbs will be provided following the requirement and the request of the consumers. The cost of the LED bulbs will be collected within 24 months from their electricity bill.
The minister had assured not to increase the electricity bills though the cost of the LED bulbs were added to it. While using the LED bulbs for 24 months the consumer can pay the price of the bulbs from the saved electricity units, he said.
These bulbs would be obtained by calling an international tender and they would be issued with a five year warranty from the provider.
"The consumer will get the benefit from the LED bulb for five years while resettling the cost of the bulbs within two years and will get money saved during the remaining three years with the guarantee provided by the provider," Minister Siyambalapitiya said.
The ministry is looking forward to do the coordination process through the meter readers.
According to the Ministry calculations, the cost of the LED bulbs could be recovered within four months.
"It would be an opportunity to save the high electricity usage during 7.00p.m to 10.00p.m and the Ministry request consumers to replace any incandescent bulbs used by them with energy saving CFL and LED bulbs in order to save energy. (Chaturanga Pradeep)