---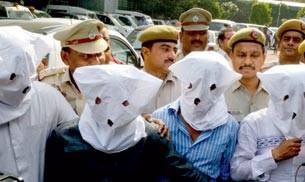 The alleged kingpin of the kidney racket busted at Delhi's Apollo Hospital was arrested from Kolkata on Tuesday.
A woman from Siliguri in West Bengal and a married couple from UP were also nabbed on Tuesday, taking the total number of arrests in the case to nine.
The mastermind, T Rajkumar Rao, 39, was held in a joint operation of Kolkata Police and Delhi Police and is likely to be brought to the Capital by Wednesday night or Thursday morning.
Rao was under the radar of Delhi Police and a team was camping in Kolkata for the last two-three days. Rao was reportedly arrested from a party that he had organised.
He was introduced to the organ racket by a woman named Shama and her aide Deepaankar in Kolkata eight to nine years ago. Police are also looking for them.
Rao's name surfaced in the latest racket during the interrogation of his three accomplices — Aseem Sikdar, Devashish Moulik and Satya Prakash.
The others arrested on Tuesday are Umesh Shrivastava and his wife Neelu, natives of Kanpur in Uttar Pradesh, and Momita Mauli from Siliguri.
All three of them are donors whose kidneys were illegally donated to different recipients allegedly at the hospital by five members of the racket who were arrested on Friday, said police.
Read: Delhi kidney racket: Raids in three cities to trace kingpin
Momita is the wife of one of the middlemen already arrested, Devashish Mauli. Police officers said they were verifying the names and backgrounds of the arrested people as they suspect the donors used fake names.
A quarrel between Momita and Devashish over payment of money promised to her against the kidney she had donated on her husband's direction came to the notice of Sarita Vihar police and helped them bust the racket.
Momita's kidney was donated to a patient from Jammu and Kashmir less than a fortnight before the racket was busted, said police. Momita had called the 100 number after the tiff with her husband.
Investigators are looking for two more donors and raids are being conducted in Kanpur, Kolkata, Nagpur, Jalandhar, Coimbatore and other cities to nab them.
Police sources said the racket is spread across many cities. "We are looking for the five recipients who got kidneys of the five donors," said a senior police officer. (Hindustan Times)