---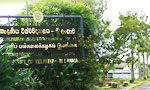 Kelaniya University lecturers have decided to refrain from teaching second, third and fourth year students until further notice as a mark of protest against the students' alleged misconduct including the ragging of freshers, officials said today.
Kelaniya University Student Affairs Director Dr. Chaminda Abeysinghe said the decision was taken by the university administration because of the repeated misbehavior by senior students who continue to ragging first-year students and intimidate the lecturers.
Resulting from this decision, all lectures for second, third and fourth-year students will be suspended from today until the senior students stop their acts of unruly behavior within the university premises.
Dr. Abeysinghe said the senior students who appear to be led by politically-affiliated elements were attempting to cause chaos for the first-year students by interrupting their lectures.
He said some senior students had even threatened the lectures who intervened to resolve these concerns and took steps to advise them to desist from disturbing the lectures of the first year students by ragging them.
"When we came to know about the harassment on first-year students, I and all the academics intervened to solve these issues by speaking to the senior students. At that point, we were threatened. This is not the first time that such incidents had happened in the university,"Dr. Abeysinghe said. "The senior students treated the lecturers in an indecent manner. As lecturers, they have to maintain their professional respect and independence and a healthy atmosphere should prevail for first-year students to continue their studies without unnecessary concerns or distractions. Until they stop these unwarranted acts, their lectures will be suspended."
He said lectures would be continued for first-year students at the Kelaniya University, though however exams would be held for senior students on the due dates.
Disciplinary action is be contemplated by the university administration against the senior students found guilty of such offences. (Piyumi Fonseka and Darshana Sanjeewa)