---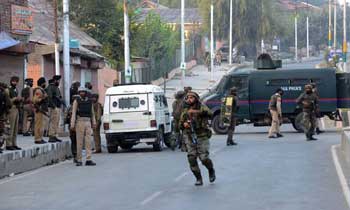 At least three fidayeen attackers (suicide attackers) have stormed a highly-fortified Border Security Force (BSF) installation next to the Srinagar airport on Tuesday morning. One militant has been killed and three BSF jawans injured in the ongoing operation, according to the police.
A Srinagar-based spokesman said the second militant has been killed as operation is on for six hours now.
Meanwhile, all outstation bound passengers have been allowed towards the Srinagar airport. Sources said a few flights from the Delhi airport to Srinagar has been allowed to take off.
A senior police official told The Hindu that heavily armed militants alighted at the gates of BSF's 182 Battalion at Gogoland and opened discriminate fire to barge into the campus. "One militant has been killed at the gates. The operation is on," said a Srinagar-based police spokesman. The incident took place at 4:30 a.m.
Sources said two militants have managed to sneak into the camps, comprising many buildings. Two militants are holed up inside the administration block. "Firing continues," said the police.
The BSF installation is stationed in highly fortified zone as the area also houses the Srinagar airport. In fact, the BSF campus shared its boundary wall with the airport. A CRPF and a J&K Light Infantry camp is also located in the area.
An official said all flights till 10 a.m. were cancelled at the airport as the entry point remains sealed. No morning flights were allowed to land in the airport.
The officials said only those flying out of Srinagar will be allowed to enter the airport once area is cleared.
The Army's 53 Rashtriya Rifles have sealed the entire area.
Unconfirmed reports suggest Jaish-e-Muhammad militant outfit has claimed the responsibility for the attack.