---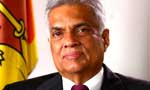 The Sri Lanka Working Journalists Association (SLWJA) yesterday strongly opposed comments made by Prime Minister Ranil Wickremesinghe against the media while speaking at a public meeting in Kandy recently.
SLWJA President Lasantha Ruhunage and Secretary Duminda Sampath said in a statement that they had expressed their dissatisfaction earlier as well at a meeting with the Premier at Temple Trees over some earlier remarks he had made against media.
They said the PM's criticism and warnings against the media were not fit to be made by a person in his position. "He had stated that he would teach a lesson to the media. He should tell the country what lesson he is planning to teach," the statement said.
"We respect the PM's right to criticise the media. But we strongly oppose moves to try and control the media by hiding behind that right," the statement added.
The SLWJA said if any journalist was involved in any fraud or corruption they should be exposed and the law should take its course against such persons. "We request the PM to expose the media men involved in such corrupt practices if he has information about such people," the statement said.
"We disagree with the journalists if they distort facts to attack the government or a person or a political party as it violates journalistic ethics. However, the remedy for this is to take the matter up with the relevant regulatory bodies, or to take legal action if one is not satisfied with the actions of the regulatory body," the statement noted.