---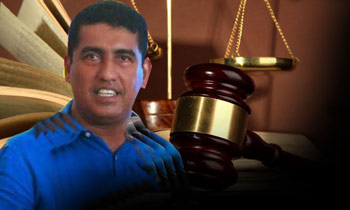 The trial of five cases filed against former Minister Johnston Fernando over non-declaration of his assets and liabilities from 2010 to 2014, was yesterday initiated before the Colombo Chief Magistrate Lal Ranasinghe Bandara.
Testifying before court, prosecution witness, Senior Assistant President's Secretary, Chandima Wickramasinghe ascertained that there was no relevant document available at the Presidential Secretariat to prove any assets and liabilities declaration of the former Minister, according to her knowledge.
However, when cross examined by Kalinga Indatissa PC, the witness also said that she was unaware of any submissions regarding assets declaration directly to the then President Mahinda Rajapaksa, as there was a legal provision to do so.
Meanwhile, Bribery Official Pallegedara Jayasundara, who conducted the initial inquiry over the allegation, also confirmed that according to the Presidential Secretariat there was no legal document of any assets declaration during the period of 2010 to 2014.
A further trial would resume on July 21, 2017.
Earlier, the Commission had filed five separate cases for four years under the Non-Declaration of Assets Act. (Shehan Chamika Silva)