---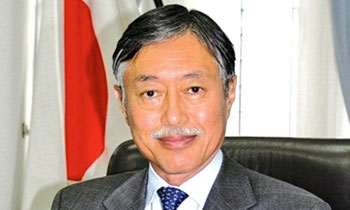 In response to the leasing of the Hambantota Port to a Chinese company, Japanese Ambassador Kenichi Suganuma said his country was against a particular country using a port exclusively in another country.
In an interview, at his office, to a select group of journalists from mainstream newspapers, the Ambassador said the Indian Ocean should remain 'open and free'.
For that purpose, he said all the ports should be operated in a transparent and open manner. Also, he said Japan was against a particular country using the ports of other countries for military purposes.
"So, we hope that in future Sri Lanka ports will be controlled by the Sri Lankan government. We hope they will not be used militarily by another country and that all security matters and Customs operations will be handled by Sri Lanka," the Ambassador said.
He said Sri Lanka was strategically located in the Indian Ocean with access to East Asia, South-East Asia, the Middle East and East Africa.
"In the south of Sri Lanka, there are some of the most important sea-lanes in the world. About 100,000 ships pass these sea lanes every year. So, Sri Lanka has deep ports like Colombo. Ships can come here for repairs, refueling, and transshipment. You can cover the entire South Indian Sea and the countries near the Bay of Bengal, Myanmar, Pakistan, and Iran, etc. Japan depends on sea trade for most of it oil," he said.
The Ambassador said Japan depended on transnational trade and therefore these sea lanes were important.
"Sri Lanka is in the middle of it. That is why we keep saying that the Indian Ocean should be open and free," he said. (Kelum Bandara)