---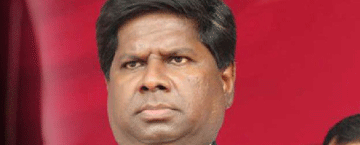 Jaffna High Court Judge M. Ilancheliyan, who is a member of the trial-at-bar that is hearing the rape and murder of Vidya in Jaffna, escaped unhurt following a shooting incident at Nallur in Jaffna this evening, but his police body guard was injured, police said.
Initial police investigations revealed that thegunman had grabbed a pistol of one of the two policemen, who were providing security to the judge's vehicle, and fired at the policeman. Then the gunman had attempted to fire at the judge, who tried to get down from the vehicle, but the other policeman had prevented the judge from getting off the vehicle.
Later the injured policeman, identified as Police Sergeant Hemachandra was admitted to the Jaffna Teaching hospital by the judge.
Video by Gobi Ranjan