---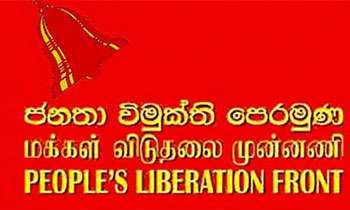 The Janatha Vimukthi Peramuna (JVP) today moved an adjournment motion to abolish the executive presidency claiming that a majority of the people of the country were in favour of doing so.
JVP MP Nalinda Jayatissa moved the adjournment motion, while JVP MP Vijitha Herath seconded it.
MP Herath said it was the executive presidency which led the country into instability during the last 50 days and added that it provided ample opportunity for the people to realize the danger of the executive presidency.
He said all the presidents in the past had promised to abolish the executive presidency since it was introduced and urged everyone to get together and pass 20A disregarding whoever brought it.
"Don't defeat it just because it was brought by the JVP. This is for the benefit of all of us. Let us pass this two-thirds majority and go for a referendum for peoples' approval," he said.
He said President Maithripala Sirisena, who promised to abolish executive presidency was now talking about scrapping provisions of the 19th Amendment which removed extreme powers of the presidency.
MP Vijitha Herath, who seconded it, said even former president Mahinda Rajapaksa would be able to become the Prime Minister if he supported the 20A as the present Constitution has no provisions for him to become the President.
Speaking during the debate, UNP MP Malik Samarawickrema said the UNP would support the motion and urged other parliamentarians to join them to do so. |Mr. Samarawickrama said the happenings of last 51 days have made it clear that the concentrating of power in one office is a recipe for disaster." \abolishing Executive Presidency is a cornerstone of the policy of UNF manifesto of 2015. Late Venerable Maduluwawe Sobitha Thera was also of the opinion that the Executive Presidency would be abolished. It is time we kept this promise," he said.
The Tamil National Alliance (TNA) and the Sri Lanka Muslim Congress (SLMC) both expressed their support for the motion. (Ajith Siriwardana and Yohan Perera)