---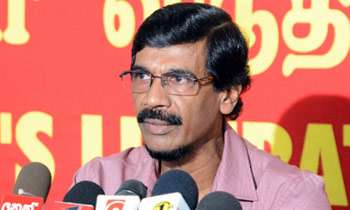 The Janatha Vimukthi Peramuna (JVP) today condemned the teargas and baton charge carried out by the police on the university students who were engaged in a protest march organised by the Inter University Student Federation (IUSF).
Addressing a press conference, JVP General Secretary Tilvin Silva said the IUSF students did not engaged in a fight with the government or the police, but only held a peaceful protest for a very reasonable demand.
"The government treated them as criminals and attacked them in inhuman manner. Around 20 students were injured and another ten were taken into custody. We condemn the government's attack on those who engaged in a reasonable struggle," he said.
He also requested the government to release the arrested students unconditionally.
Further, he said the political parties including JVP, many trade unions, doctors, parents and students started an anti-SAITM struggle as it was a money spinning institution.
He said without listening to the public the government attempts to safeguard SAITM and suppress the public opinion using the law suits power.
"We don't have any issues with SAITM. All these efforts to close down the institution as it is a step towards selling the state education. That is why it should be defeated," he said.
He said time to time the government is suppressing the public opinion in different ways and taking interim orders to carry out attack on people. This clearly shows the violation of the rule of law of this country.
Therefore, the authorities should stop suppressing the public and to resolve the issues amicably through discussions. (Thilanka Kanakarathna)