---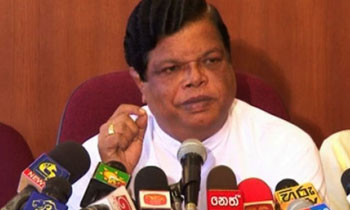 The joint opposition (JO) today requested President Maithripala Sirisena to issue a circular ensuring the safety of government servants who are providing relief to flood and landslide-affected people disregarding standard protocols and circulars.
It said though the President had requested officers to disregard circulars when providing relief, the officers were not keen to take effective decisions or to take a risk because they fear action against them.
"As soon as the government came to power, it questioned more than 200 soldiers about money spent to provide relief to flood victims in 2014. The army obtained Rs.50 million to uplift the livelihood of those living in flooded-affected areas and returned the balance Rs.26 million to the government. The transaction was transparent. Even former Army Commander Daya Ratnayake was questioned on this matter. Against such a background, soldiers and other officers shy away from taking prompt action," MP Bandula Gunawardena said today.
He said this was why the President, as the Minister of Defence, should assure the officers who take action in good faith would not be faulted.
The MP said the present state mechanism appeared to be faily passive during the disaster while media institutions and other organizations are providing relief.
He said funds allocated to the Housing and Constructions Ministry to construct housing units across the country should be utilized to build and refurbish houses for the landslide and flood victims.
The MP also requested the government to hold meetings chaired by district secretaries on how best to coordinate the provision of relief to the victims and discuss the other measures that needed to be taken in this situation. (Lahiru Pothmulla)