---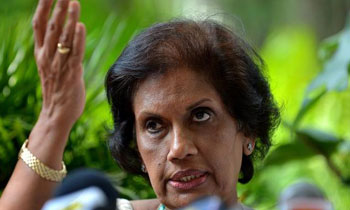 Former president Chandrika Kumaratunge said today that those at the joint opposition May Day rally were confined to a limited area of some 40% of the Galle Face Green.
She said the JO had published photographs in the media in the pretense of giving the impression that the JO was a powerful political force.
She said if all the people who participated in the SLFP May Day parade at Gatambe in Kandy were contained in one ground, the crowd at the SLFP May Day rally would have been much more than that at the Galle Face Green.
"The JO May Day rally was not bigger than the May Day rallies of the SLFP and the UNP. I have the pictures. They did not have a parade. They filled the ground and did not allow the people to move and had tight security right throughout and confined them to the allotted area. They get everyone to take photos and put them in the media with the hope of scaring the people that they are strong," she told a news conference in Colombo.
Ms. Bandaranaike said the organizers of the SLFP May Day rally at the Gatambe did a foolish thing to allow the people who participated in the May Day parade leave without attending the rally.
"I do not know who organised the rally. They did not allow some people to come inside the grounds. We had a huge May Day parade. It left at about 1.30 p.m. The tail end of the parade was still coming in at about 6.00 p.m," she said. (Ajith Siriwardana)