---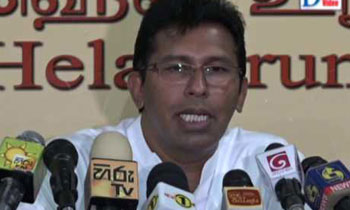 The Jathika Hela Urumaya (JHU) said today it was against the proposal to name the post of Chairman and Deputy Chairman in Provincial Councils as Speaker and Deputy Speaker stating that it would lead to separatism and political insecurity.
JHU National organizer Nishantha Sri Warnasinghe said the proposal made by the Provincial Council Chairmen to change their posts had been approved in all nine provincial councils and submitted it to the Local Government Minister Faizer Musthapha.
He said even provincial council members partial to former President Mahinda Rajapaksa in the seven UPFA driven provincial councils out of the nine had also agreed to the proposal despite claims to represent for country's unitary state and sovereignty.
"The proposal was approved in all nine provincial councils. Only we and the JVP voted against it. We see this as a move to strengthen separatism. This would create nine speakers in all nine provinces and nine parliaments in line with the country's parliament. This is a serious matter. We will not agree to any proposal which promotes separatism. We represent only moves that strengthen political stability and unitary status," he said.
He said it was the Western and Northern Provincial Councils which had brought in proposals detrimental to the country such as scrapping powers of the governor.
"We are against the provincial council system. We have not supported any proposal made to strengthen provincial councils. Strengthening of Provincial Councils was a threat to the unitary state and political stability in the country," he said. (Ajith Siriwardana)