---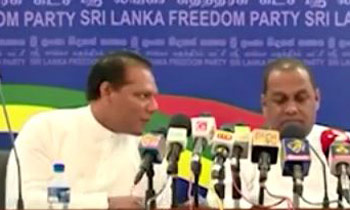 SLFP Minister Dayasiri Jayasekara said today the remarks he made prior to a news briefing with regard to the May Day speech by UNP Minister Sajith Premadasa, were done in a lighter vein though it was true.
When contacted, the minister said it was wrong for media personnel to publicise his remarks because they were made off the record.
"The manner in which some journalists behave is unacceptable. Though what I said was true, it was said in a lighter vein," he told the Daily Mirror.
A few remarks made by the Minister prior to the commencement of a news briefing at the SLFP Headquarters were captured by a camera last Wednesday.
The video which showed Minister Jayasekara commenting on a conversation he had with Minister Premadasa following a Cabinet meeting went viral on social media.
Minister Jayasekara was seen saying he wouldn't have left the UNP had Minister Premadasa made his May Day speech in the past, pledging to protect the party leader and help him retain the leadership. (Lahiru Pothmulla)