---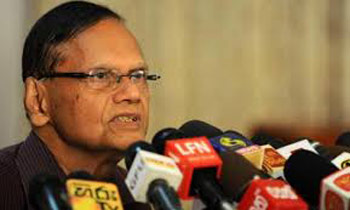 The Joint Opposition said yesterday the Bill to give legal effect to the International Convention to Protect All Persons from Enforced Disappearances was a dangerous piece of legislation with provisions enabling a foreign government or an institution on behalf of it to appeal for the extradition of a Sri Lankan political leader or military leader on the ground of command responsibility.
Addressing a press briefing, former External Affairs Minister Prof. G. L. Peiris said the Bill had been presented to Parliament on March 7 by Prime Minister Ranil Wickremesinghe.
"This is not for something they have done, but for something happened within their scope of responsibility. Sri Lanka will have to oblige by all the provisions enforced by the International Convention if this Bill is enacted. The Prime Minister keeps saying Sri Lanka is not a signatory to the Rome Treaty and that a Sri Lankan could not be tried before International Criminal Court. What happens if the country seeking extradition has signed the Rome Treaty? Then, there is the damage of military or political leader extradited being ended up as a defendant before the ICC," he said.
He said, "There is a provision to set up a special High Court in Colombo to try offences in this category. No bail can be granted. The Police will be given the authority to investigate in the absence of investigations." He said his side would strong public opinion against the bill. (Kelum Bandara)