---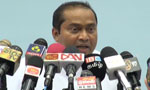 Western Province Chief Minister Isura Devapriya challenged the Joint Opposition to elect any member from among them who could contest the Maharagama electorate against him and win at the forthcoming local government elections.
Addressing a media briefing in Colombo, Chief Minister Devapriya said he'll definitely win the election no matter who would be fielded by the Joint Opposition.
"There are some international forces that conspire to destroy the Sri Lanka Freedom Party (SLFP). But I would like to say that the SLFP members from the villages will come forward to deal with those forces," he said.
The Chief Minister also said there were rifts among the members of the Joint Opposition as some members within the Joint Opposition were conspiring to destroy the SLFP in order to make the UNP victorious.
He also stated that the UNP too cannot destroy the SLFP. (Kalathma Jayawardhane)
Video by Richan