---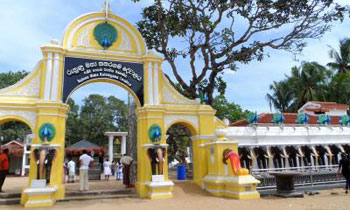 The problems evolved from the tense situation that occurred at the Kataragama Devalaya was solved after the discussions held with the chief Kapu Mahattaya, Somipala Ratnayake and five other Kapu Mahattayas, Buddhist Affairs Commissioner Nimal Kotuwegedara today said.
Speaking to journalists, he said that the shortcomings which were prevailing with regard to the possession of the keys had ended up with proper solutions; in addition to that, he said the problem was aggravated with the interference of Kataragama Maha Devalaya Basnayake Nilame D. P. Kumarage on August 22.
"Although the Basnayake Nilame could not participate in the discussions, we will let him know the outcome of the meeting and hope he would agree with the decisions taken at the meeting," he added.
Meanwhile, the chief Kapu Mahattaya, Somipala Ratnayake admitted that the issue had been concluded with pertinent solutions and adding that they did not bother the absence of the Basnayake Nilame at the meeting.
"We are happy that the crisis has been successfully resolved but still we insist that the Devalaya Basnayake Nilame should resign following his misbehavior at the Devalaya premises and the misuse of the Devalaya money and possessions" he said.
However, the Basnayake Nilame D. P. Kumarage refuted the allegations made by Chief Kapu Mahattaya and said that he had accomplished his duties fairly well without grabbing anything from the Devalaya.
"I am happy about the decisions taken at the meeting with the head of Buddhist Affairs Commissioner and I determine to render my service with the possible way I can without corruption," he added. (Sheain Fernandopulle)