---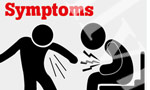 A seasonal infectious fever with nausea and diarrhoea is now spreading throughout the country, Chief Epidemiologist Dr. Paba Palihawadana today said.
Dr. Palihawadana said a slight fever could be expected these days with the commencement of the rainy season.
"This is not a critical condition and there are also enough medications to prevent this. It will be better for school children to be safe from this condition," she added.
Dr. Palihawadana also advised the children to use separate handkerchiefs and said others should not keep contact with the tissues or handkerchiefs which were used by the patients affected with this infection. (Kalathma Jayawardane)