---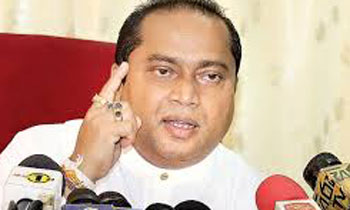 While promising to upgrade waste disposal services in the province, Western Province Chief Minister Isuru Devapriya said laws would be introduced to stop people from transporting and dumping garbage.
He told a news briefing that he had requested local government authorities to submit a report on the labour and machinery requirements to provide a comprehensive service with regard to garbage disposal.
"We will recruit more labour and purchase more machinery no sooner we receive the relevant information," he said adding that once the necessary infrastructure and an acceptable garbage disposal service was in place, new laws would be introduced banning people transporting and disposing garbage.
"Only institutions handling garbage will be given the authority to transport garbage," the CM said.
Referring to the piles of garbage dumped on street corners across Colombo, he said the situation was being gradually resolved.
"Local government authorities were not the only ones who dumped garbage at Meethotamulla, there were private parties as well. The new laws will ban them from doing so," the CM said adding that the residents dumping unsegregated waste on roadsides were the other culprits.
"We thank the military and the police for arresting these errant individuals and taking legal action against them," the Chief Minister said. (Darshana Sanjeewa)
Video by Buddhi