---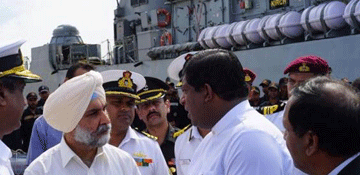 An Indian ship filled with relief supplies for those affected by the devastating floods and landslides arrived at the Colombo Port on Saturday, the Foreign Ministry said in a statement.
Foreign Minister Ravi Karunanayake visited the Port to receive the Indian Naval Ship INS Kirch and take charge of the supplies from the Indian High Commissioner to Sri Lanka, Taranjit Singh Sandhu.
As before India has been the first to respond when Sri Lanka is ravaged by national disasters. When tsunami struck the island in December 2004, India was the first to respond and it even set up a hospital at Galle which was particularly badly hit by the giant waves.
The Foreign Ministry said that another ship filled with relief supplies from India will arrive in Colombo on Sunday.
The death toll from the devastating floods and landslides reached 100 on Saturday while 200,000 people have been displaced and 99 are still missing, the Disaster Management Center said.
Rescue and search operations are still ongoing in several areas and fresh flood alerts have been issued as rains continue in certain areas.
The Sri Lankan government on Friday made an appeal to the UN, the International Search and Rescue Advisory Group (INSARAG) and neighboring countries to provide assistance for the affected people, especially in the areas where search and rescue operations were ongoing.(newsin.asia)