---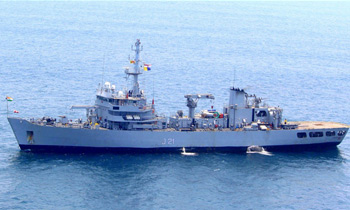 The Indian Navy has carried out a joint hydrographic survey of Sri Lanka's Weligama Bay and southern coast, in a reflection of the growing cooperation between navies of the two countries.
Hydrographic survey data for more than 7,000 nautical miles was collected during a two-month-long exercise and details of the survey were handed over to the Sri Lankan Navy at a ceremony in Colombo yesterday.
Interestingly, Sri Lanka had on Wednesday rejected China's request for its submarine to dock at Colombo next week, after a similar visit in 2014 triggered strong protest from India. China has been making consistent efforts to make inroads into the island nation.
"The successful completion of the maiden joint hydrographic survey with Sri Lanka Navy marks a new beginning in the bilateral relations," Indian Navy spokesperson Capt D K Sharma said.
He said Indian naval ship Darshak was on a two-month-long deployment in Sri Lanka to carry out the survey.
The survey operations were undertaken in three phases and the ship also visited Colombo and Galle harbour. A Chetak helicopter was also deployed as part of the data collection exercise.
"The ship and its survey motor boats fitted with multi- beam systems were extensively deployed and the hydrographic survey data for more than 7,000 nautical miles was collected," said Sharma.
Officers onboard the INS Darshak also imparted training on various aspects of hydrographic survey to some Sri Lankan naval officers.(PTI)